Why You Should Consider Tooth-Colored Fillings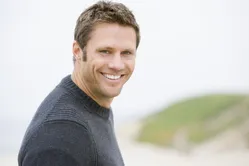 Tired of unattractive, dark metal fillings? While amalgam has been the material of choice for dentists across the country for generations, new tooth-colored fillings provide durability and exceptional aesthetics. Dr. Michelle B. Deutch, your Olathe, KS dentist, provides patients with modern composite resin fillings as one of many precise restorative dental treatments.
Tooth-colored Filling Material
Composite resin is a enamel-colored mixture of glass and acrylic. The Academy of General Dentistry states that composite resin has many benefits over other kinds of filling materials, including:
perfectly matched, lifelike color and texture
bonding directly to healthy tooth structure
less enamel preparation
great durability, particularly on front teeth directly in the smile zone
return of 85 percent or more of a tooth's strength
little or no dental sensitivity
immediate curing with no need to delay chewing or drinking
The Restorative Process in Olathe
Dr. Deutch discovers dental decay on visual inspection and with ADA-accepted DIAGNOdent laser detection. Digital x-rays also uncover cavities in more hidden areas of the mouth, especially in between teeth.
After removing the decayed material from the tooth, Dr. Deutch etches the area with a primer liquid which allows the resin to adhere well to tooth enamel. She then begins layering composite resin onto the tooth. She hardens each layer with a special curing light and sculpts the filling for best appearance and bite. She also polishes the composite resin for a beautiful finish and stain-resistance.
Some patients choose to have old, dark and damaged fillings removed and replaced with composite resin fillings. Also, composite resin bonding improves smile aesthetics by filling in chips, closing spaces, smoothing rough spots and pits and strengthening hairline cracks.
With good oral hygiene at home, limiting staining beverages and foods, and keeping routine exam and cleaning appointments with Dr. Deutch, tooth-colored fillings last for years.
Consider Tooth-colored Fillings
You will be pleased with the results, and you can trust the expertise of Dr. Deutch and her professional team to create restorations that improve your oral health, appearance and self-confidence. If you wish to learn more about composite resin fillings, call the office for a consultation: (913) 469-0085.