Invisalign Improves Your Confidence In Your Smile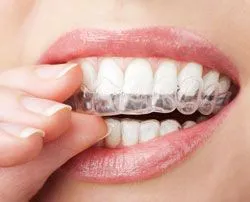 Whether young or old, many of us today have teeth that are misaligned in our mouths. Oftentimes we opt for braces, but many of us find them to be uncomfortable or awkward in our mouths - what then?
At the dental office of Michelle B. Deutch, D.D.S., your smile can be straightened out no matter who you are, as Invisalign offers a lasting solution for misaligned teeth.
Invisalign Therapy
Invisalign uses invisible, removable, and comfortable aligners that are inconspicuous to the rest of the world, so your transforming smile can go incognito. Plus, Invisalign can be used in the mouths of adults and teenagers alike, serving as the non-invasive, non-braces way to straighten your teeth for a lifetime of big grins. Take a look at how Invisalign therapy works below:
Every four to eight weeks, you will wear a new set of clear aligners that slowly push your teeth closer than the last set toward their desired position.
You will only remove them for eating, drinking, brushing, and flossing during the day.
Every six weeks, you'll come into Dr. Deutch's office. We can take a look at how your treatment has been going.
Usually between nine and 15 months after the first set of aligners has begun your dental reconstruction, you'll have a brand new, aligned smile!
Most patients use between 18 - 30 aligners during their treatment.
Each set of aligners is created using state-of-the-art, 3-D computer imaging technology, and is both safe and durable in your mouth. The success rate is extremely high, too, giving patients confidence that their dental investment will last a lifetime.
If you'd like more information regarding Invisalign or other options to secretly straighten your smile here in Overland Park, KS, give Dr. Deutch a call at (913) 469-0085 and start your smile's transformation today!