How Does Invisalign Treatment Work?
How Invisalign treatment from your dentist in Overland Park, KS, can give you an outstanding smile!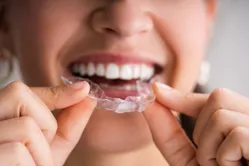 If you are living with a crooked smile, you can straighten it easily, comfortably, and quickly. The answer is Invisalign treatment! Dr. Michelle B. Deutch in Overland Park offers Invisalign treatment to give you the outstanding smile you deserve.
If you've been procrastinating on straightening your smile because you don't want to wear a mouthful of brackets and wires, it's time to rethink orthodontic treatment—it's time to discover Invisalign treatment!
More about Invisalign
Invisalign works by using a system of clear, smooth plastic appliances called aligners. At the beginning of treatment, you will receive a set of custom-made aligners which you will wear for 2 weeks. Following that period, you will move on to another set of aligners which you again will wear for 2 weeks. This bi-weekly progression then continues until your teeth have moved into proper position, a process which usually takes between 9 and 15 months.
Just consider these important benefits when you choose Invisalign:
Increased comfort, because there are no sharp metal parts to irritate your tissue
Cosmetic beauty, because the aligners are clear plastic, making them very difficult to see
Rapid results, because Invisalign takes far less time than conventional brackets and wires
Great oral health, because you remove the aligners to brush and floss normally
Satisfaction, because you can remove the aligners to enjoy the foods you love
Invisalign aligners look great, but they are also strong enough to correct many of the same issues as conventional orthodontics, making them the perfect choice if you have an overbite, underbite, crossbite, or open bite, or if you have overlapped, poorly-positioned teeth. You can also close gaps between your teeth, to provide a full, straight, beautiful smile!
Interested? Give Us a Call!
Don't settle for a smile that is less than you deserve—choose Invisalign! For more information about Invisalign or any of our other restorative, cosmetic, and preventive dental services, call Dr. Michelle B. Deutch in Overland Park, KS, today at (913) 469-0085!