How Does Invisalign Work?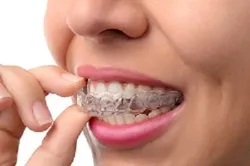 While almost everyone wants a beautiful, straight smile, not everyone wants to submit to wear metal braces. Another option is a treatment called Invisalign. It's a revolutionary orthodontic method that has grown sharply in popularity since it was first developed in 1997. Dr. Michelle Deutch helps patients get that straighter smile they desire with Invisalign at her dentist office in Overland Park, KS.

Invisalign Works
A Harris survey found that 78 percent of American adults say that having their teeth straightened was one of the best things they did for their smiles. Eligible patients who choose Invisalign for their orthodontic needs do so because this treatment provides the same results as wearing metal braces, and often in much less time. The system uses a series of plastic trays instead of having brackets cemented to the teeth. It's an ideal solution for patients who have relatively minor issues, like crowding, small gaps, and overbites.

How the Trays Work
The mold of an Invisalign aligning tray is similar to but slightly different from the current contours of your teeth. The more you wear the tray, the more your teeth move to fit its shape. After wearing a series of these trays during the treatment period, your teeth will eventually settle into the new position mapped out by your Overland Park dentist. It's very important to wear the aligners for at least 22 hours per day if you want the treatment to work for you.

Benefits of this Method
The primary benefit of Invisalign is that you'll get straighter teeth without having to wear an unattractive appliance for years. The aligning trays are clear and very lightweight so people usually don't notice them right away. You also have the option of removing the trays, which is convenient when eating, brushing your teeth, or having an intimate conversation with another person.

Invisalign and Your Smile
Your dentist must evaluate the extent of your orthodontic problems to ensure that Invisalign is the right treatment for you. Schedule a consultation with Dr. Deutch at her Overland Park, KS, today by calling (913) 469-0085.