Dental Implants Can Restore Your Missing Teeth

Find out how you can get that perfect, full smile back with implants in Overland Park.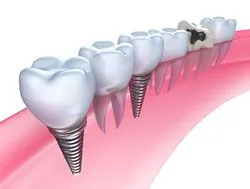 Tooth loss is a frustrating ordeal, but it's important to know that you aren't alone. There are millions of American adults who have dealt with the same issue. The most important thing is to make sure that you get the restoration you need to replace your missing tooth (or teeth) and bring your smile back to life. Our Overland Park, KS, dentist, Dr. Michelle Deutch, is here to tell you how dental implants could be that solution for you.
No matter whether you are missing one or all of your teeth, if you are an otherwise healthy adult then dental implants might be able to help you. An implant looks like a tiny metal post or screw. This metal restoration will act as your new tooth roots. While you might not realize it, tooth roots actually play a vitally important role in maintaining good oral health.
The roots of your teeth constantly stimulate the jawbone to produce new bone cells, which keep the bone healthy and strong; however, when one or more teeth fall out there is not enough stimulation for the jawbone. As a result, the jawbone begins to lose density and deteriorate. Over time, these changes in the bone structure can also affect the shape of your face, leading to sunken cheeks and premature lines and wrinkles.
While there are certainly other options for replacing missing teeth these solutions aren't able to replace missing tooth roots or stimulate the jawbone like implants can. This is why patients with dental bridges or dentures have to come in for regular adjustments or get replacements every few years.
A dental implant is the only tooth replacement that naturally fuses with the jawbone and tissue and provides a long-term and stable foundation from which to support a false tooth or teeth. If you are only missing one tooth, a single implant will be embedded in the jawbone and covered with a dental crown. If you are missing several or all of your teeth then multiple implants will be placed along the jawbone to support partial or full dentures.
If you think dental implants are the best way to give you that full smile back then it's time to schedule a consultation with us. We would be happy to sit down with you and determine whether you are the ideal candidate. Call our Overland Park, KS, dental office today.