Are you thinking about STRAIGHTENING your teeth, but don't know where to start? ...think no further!
Here's how invisalign Works – Dr. Deutch & her team uses 5D technology scanner called Itero, Invisalign then designs a series of Invisalign clear aligners that are customized to your teeth. The trays slowly move your teeth back into their appropriate position by balancing your bite & correcting any crowding, spaces etc. Each set of aligners is typically worn for 7 days, and only being removed to brush, floss, eat, and drink. For optimal results, your Invisalign aligners should be worn no less than 22 hours a day. Depending on your individual situation, the average treatment time is around 6 - 12 months, it all depends on your type of case, but the results will be a new smile that you'll be thrilled to flash!

What Types of Orthodontic Issues can Invisalign Resolve?
We usually recommend Invisalign for older teenagers and adults, because teeth might still be growing in our younger patients. If not too severe, the most common conditions that we can be treated using Invisalign aligners include: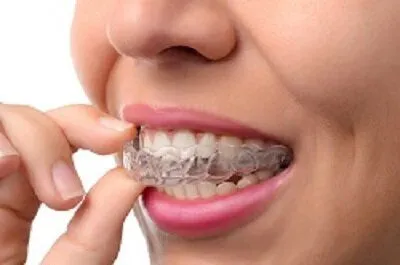 Crowded teeth
Crooked teeth
Protruding teeth
Teeth gaps
Overbite
Underbite
Crossbite
If your case is severe, other orthodontic procedures may be a better solution to address your dental concerns. Invisalign also has a handy Smile Assessment, where you can answer a few quick questions to determine if this treatment approach is right for you.
Who is an Ideal Candidate for Invisalign Treatment?
Here are some other characteristics that make an ideal Invisalign candidate:
Does not have serious dental issues which might require more advanced treatment methods.
Is willing to follow instructions and adhere to the Invisalign guidelines. Wearing Invisalign aligners is extremely easy, but you have to wear them for extended periods of time, and remove them when eating.
If you have active gum disease or cavities, it may be recommended to have restorative treatment prior to moving forward with your Invisalign treatment plan. In Invisalign we do not move dental implants, bridges, we work around them. We can indeed move single crown teeth, without a problem Dr. Deutch & our knowledgeable orthodontic invisalign team & technicians create a treatment plan that can work around any concerns in your mouth, unless your case is extremely severe and need further treatment.
These are some general guidelines, but the best way to know if you are a good candidate for Invisalign treatment is to scheduling a consultation with us at your convenience. We will perform a thorough exam, along with a 5D scan and photos. IF you are new patient, Please fill out your Medical history here and We will be more than happy to help you determine the best way to improve your smile. If we decide that Invisalign is right for you, we will walk you through your treatment plan and answer any questions you may have.

Dr. Michelle Deutch, DDS is a preferred Invisalign provider in Overland Park, Kansas and recommends Invisalign for adults who prefer a discreet and subtle option than traditional braces.
Call Michelle B. Deutch, DDS in Overland Park, KS today at (913) 469-0085 to schedule your consultation!
---