What is Epic of Biolase?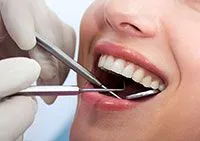 In the past, lasers were a science fiction movie creation, used to shoot at aliens or monsters. However, lasers have become more and more common in medical and dental settings. From performing surgeries to whitening teeth, lasers are a priceless tool. Epic of Biolase, a versatile dental laser, is a one-size-fits-all laser system which performs many duties. Learn more about Epic from Dr. Michelle Deutch in Overland Park, KS.
What is Epic of Biolase? Biolase's Epic is a diode laser which combines several dental instruments into one. This revolutionary product is available in different configurations depending on your dentist's needs. Epic is portable, FDA approved and effective in the treatment of several dental conditions. Additionally, Epic is the only diode laser dentistry tool in the United States which can perform three separate therapies using the same unit.
What can Epic do for me? Epic performs three main tasks with three different settings:
Soft Tissue Surgery: Epic of Biolase treats conditions which require soft tissue surgery. This setting also treats ulcers and lesions and can even treat periodontal issues.
Pain Management: Pain management for symptoms of conditions like TMJ (temporomandibular joint) disorder is also available from Epic. Laser therapy relaxes the muscles and relieves pain.
Teeth Whitening: The Biolase Epic system can perform a full whitening session in about 20 minutes. On average, sessions lift the color of the teeth about 5 shades. This cuts the appointment time of traditional whitening methods in half.
Epic of Biolase Treatments in Overland Park Epic of Biolase systems are small, light and portable, allowing your dentist to move around freely. Depending on the procedure, your dentist adjusts Epic's settings and changes its tip to one necessary for the procedure. Soft tissue surgery uses a small tip and pinpointed laser, while pain management procedures use a handpiece to evenly distribute the laser's intensity and ensure the best results. Teeth whitening procedures use another type of specialized handpiece. Laser dental procedures allow for less downtime after a treatment and require less anesthetic before performing the treatment. For more information on Biolase Epic treatments, please contact Dr. Deutch in Overland Park, KS. Call (913) 469-0085 to schedule your appointment with Dr. Deutch today!