Veneers: A Simple Way to Get a Beautiful Smile
These dental restorations are easy to get and can transform your smile.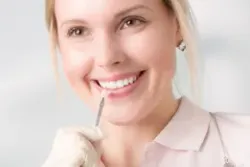 Want a simple and effective way to get a smile makeover? Then it's time you turned to your Overland Park, KS dentist, Dr. Michelle Deutch, for dental veneers. Find out what has made these cosmetic restorations so popular and helped countless people restore their smiles.
What are veneers?
These thin, tooth-colored shells are applied to the front surface of the tooth to mask certain dental flaws that may not cause functional issues for your smile but certainly make it less than appealing to look at. If you are dealing with imperfections such as severe discolorations, chips, cracks, gaps between teeth or misshapen teeth, it's time you considered getting dental veneers in Overland Park.
How are veneers placed?
Once your cosmetic dentist in Overland Park has determined that you are the right candidate for porcelain veneers, the first step is to prepare your teeth for their new restoration. You may choose to only have one veneer applied to restore one tooth or you may want to have a full smile of veneers. The choice is yours! Preparing the teeth is fairly simple, but once this is complete this procedure isn't reversible.
We will remove a minimal amount of enamel from the surface of your teeth to make room for the veneers. This can usually be performed painlessly without anesthesia, but sometimes a local anesthesia may be required. Once the teeth are prepared, we will make a mold of them. This mold will then be used to make your veneers. In the meantime, we may decide to place temporary veneers over your teeth until your permanent ones are ready.
During your next visit, we will remove the temporary veneers and a substance is placed over your teeth to rough up the surface and make the veneers adhere better. Then each veneers is glued to the tooth using a dental resin.
And there you have it—a perfect smile that is free of imperfections! If you are ready to get dental veneers, it's time you scheduled a consultation at our Overland Park, KS dental office. Turn to Dr. Deutch for all of your smile needs.