Is whitening right for me?
Yellowed, stained teeth embarrass young and old alike. Tooth discoloration comes from a variety of sources, including dark foods, smoking, beverage choices and simple wear and tear on tooth enamel. Wouldn't you like to have your smile look as young and bright as you feel?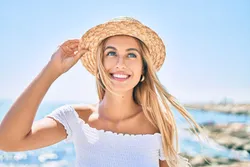 Your answer may be professional teeth whitening from Overland Park dentist Michelle B. Deutch DDS. Safe, quick and very effective, Overland Park teeth whitening can brighten enamel by as many as 8 shades of color. Professionally supervised whitening by your cosmetic dentist works better than over the counter toothpastes, strips and other products. The dental-grade bleaching gel powers out stains from deep within tooth enamel, but leaves little or no residual tooth or gum sensitivity.
Could Whitening be Right for You?
Dental professionals at the Cleveland Clinic say that many teenagers over 16 and adults make good whitening candidates. Most important, teeth should be cavity-free and gums, pink and healthy. Pregnant or lactating women should postpone whitening procedures, and people anticipating multiple restorations such as fillings and crowns must wait until their procedures are complete before whitening.
People with very worn enamel or exposed roots must consider other cosmetic dental services to improve tooth color and other aesthetic issues. People with yellowed teeth achieve the best results from Overland Park teeth whitening because their stains are extrinsic--that is, the mineral matrix in their tooth enamel holds organic matter from foods and beverages. This organic matter responds well to bleaching.
Whitening Options
Dr. Deutch and her staff carefully evaluate a patient's oral health before proceeding with whitening. If the procedure is right for the individual, there are several great options to choose from, each convenient for lifestyle and results desired.
Zoom! whitening is an in-office treatment employing bleaching gel activated by a special whitening light.
The Venus White system applies gel at home via customized trays the patient wears 2 times a day for 1 to 2 weeks.
Sinsational Smile gel is swabbed on the patient's teeth in the office. Its effects are enhanced with a take-home whitening pen.
Disposable, pre-filled trays are worn for 7 days at home for teeth that are several shades brighter.
Find Out More
Dr. Deutch offers an impressive menu of cosmetic dental services. Professional whitening is one of the most popular and requested treatments because of its quick and very dramatic results. Find out if professional whitening could change your smile from dull and yellow to dazzlingly white. Contact the office today to set-up a consultation: (913) 469-0085.