---
Smiling with confidence makes you feel great. A beautiful smile is also an important social and professional asset. Yet there are many people who avoid showing their teeth in public or in photographs because they don't like what they see. If that describes you, then why not start the process of getting the smile you've always wanted with a smile makeover?
A smile makeover goes beyond simply responding to dental problems as they arise. It's a comprehensive smile-rejuvenation plan that's uniquely suited to your own facial features and aesthetic preferences. The results can be quite dramatic — both in terms of how you will look and how you will feel. These are the major steps involved:
Take a look. The makeover process is all about giving you the smile of your dreams. So take a good look at your smile and note what you like and don't like about it. Some questions you can ask yourself are:
Are your teeth as white as you'd like them to be?
Are any teeth chipped, cracked or worn?
Does your smile have a gummy appearance?
Do your teeth seem too large or small?
Do you like the alignment and spacing of your teeth
Are you self-conscious about crookedness or gaps?
Remember, beauty is in the eye of the beholder… and that's you! Some people want their smile to look "perfect" — and to them, that means completely straight, uniformly white teeth. Others like a slightly more natural look, and are not displeased by slight gaps or shade variations. There are lots of decisions to make, but don't worry — Dr. Deutch and staff are skilled at helping you sort it all out!
Share your thoughts. Communication is an extremely important part of the smile makeover process. At the first makeover consultation, it helps if you describe what you would like to change in as much detail as possible. Bring along pictures of smiles you like, or of how your own smile used to look. Your makeover dentist will have some thoughts to share with you as well because dentists are trained to look at smiles in terms of facial balance. In other words, a dentist will look not only at how the elements of a smile (teeth, lips and gums) relate to each other, but also how they blend in with the face as a whole.
Make a plan. An important part of planning a smile makeover is a comprehensive dental exam. Cosmetic dentistry offers an amazing array of lifelike tooth restorations and treatments; but first, any conditions in your mouth that may jeopardize a good result must be taken care of. If your teeth are discolored, for example, the reason must be determined. You may have an underlying dental disease that needs to be treated before whitening your teeth; otherwise, the whitening may not last. Likewise, if you often drink red wine or other beverages that stain, you might do better with porcelain veneers than bleaching treatments.
Try it out. A smile makeover is an investment that is meant to last. That's why many of the procedures performed are irreversible. So if you are contemplating some changes, it's a great idea to see them before you fully commit to them by seeing a lab wax-up of your teeth. This also allows a fine-tuning of the makeover plan.
A "trial smile" is a great way to eliminate unknowns in the makeover process. But when it's all done, there's still one thing you may not be prepared for: how great it feels to flash your new smile to the world!
Are you interested in cosmetic dentistry? Call Michelle B. Deutch, DDS in Overland Park, KS at (913) 469-0085 to learn more today!
---
When you use tooth whitening products from a pharmacy or supermarket, there's no guarantee that you'll get the results that you're looking for. Some products could also irritate your gums if they aren't used properly. The better option is to have a professional take care of the job. Learn about the advantages of teeth whitening from Dr. Michelle B. Deutch in Overland Park, KS.
Why People Want Whiter Teeth
What to Expect at a Whitening Appointment
The majority of the time you spend at your professional whitening appointment will be spent laying back and relaxing. After protecting your gums, Dr. Deutch will gently apply a bleaching gel to the surface of your teeth and then use a laser curing light tool to activate the gel. After you relax for about an hour, the dentist will remove the gel and reveal your new smile.
Benefits of Teeth Whitening
There are two categories of benefits of having your teeth whitened professionally—immediate and overall. The immediate benefits include brightening up your appearance in one relatively short appointment by up to eight shades. If you try other whitening solutions, like over the counter products, you will have to wait much longer for results. The overall benefits of having your teeth whitened by a dentist include:
Increased self-confidence.
Younger appearance (people with whiter teeth are generally perceived as younger).
Better social experience (people tend to trust people who have nice smiles more).
Are you interested in a brighter smile? Call Michelle B. Deutch, D.D.S in Overland Park, KS at (913) 469-0085 to schedule an appointment today!
---

In just two or three dental visits, a veneer can reverse years of stains caused by foods, caffeine and tobacco use.
Special thin laminates, called veneers, can often be used to correct discolored, worn down, cracked and chipped teeth. Veneers can also be used to close unsightly gaps between teeth. Stronger types of veneers made of porcelain, also called composite veneers, typically last longer because they are bonded to the tooth. An impression of the tooth must be made and a veneer molded by a lab technician. Because veneers require a small amount of enamel to be removed, they are permanent and non-reversible.
The process involves buffing the tooth, removing an extremely thin layer of the tooth to allow for the thickness of the veneer, an impression of the tooth, and final bonding of the veneer to the tooth with special cement. A special light is used to complete the process.
Interested in veneers? Call our office in Overland Park, KS at (913) 469-0085 today! We are conveniently located near Prairie Village, Olathe, Lenexa, and Leawood.
---
A dental implant most often takes the form of a small, screw-shaped titanium post that replaces the root-part of a missing tooth. The surgical procedure used to place an implant is actually quite minor and routine, requiring only local anesthesia in most cases. After a healing period, the implant is topped with a lifelike crown custom-made to match your existing natural teeth. Implants have a documented success rate of over 95%, which is significantly higher than any other tooth-replacement option.
How Implants Work
During a minor surgical procedure, your dental implant is inserted directly into the jawbone in the space vacated by the missing tooth. It will then be left to heal for a period of months before the final crown is attached. During this healing period, the implant actually fuses to the bone surrounding it.
Implant Care and Maintenance
There are only two ways an implant can lose attachment to the bone and fail once it has successfully fused: poor oral hygiene or excessive biting forces. Poor oral hygiene and/or a lack of regular cleanings can lead to a destructive bacterial infection called peri-implantitis. Flossing and brushing your teeth on a daily basis, along with regular professional cleanings, can prevent this. Excessive biting forces can come from either a habit of clenching or grinding your teeth, or an insufficient number of implants to handle the forces generated by your bite. You should receive the correct number of implants so this does not happen. And if you have a habit of grinding or clenching your teeth, a nightguard will be recommended to protect your implants. After all, implants are a long-term investment in your smile, your health and your well-being, so it's best to protect your investment.
Tooth Replacement Options Using Dental Implants
Implants can replace missing teeth in a variety of ways. They can be used to:
Are you interested in dental implant treatment? Call Overland Park, KS dentist, Dr. Michelle B. Deutch at (913) 469-0085 today to schedule an appointment!
---
Dentistry is an art as well as a science; dental crowns offer a perfect example of this. A dental crown or "cap" is a covering that fits over a damaged, decayed or unattractive tooth. It can even replace a tooth entirely as part of dental bridgework.
A crown completely covers a tooth above the gum line. This is in contrast to a dental veneer, which only covers a tooth's front surface and needs natural tooth structure to support it. Therefore, if a tooth is missing a significant amount of structure above the gum line, a crown would be the restoration of choice.
Crowns strengthen damaged teeth, allowing them to function normally again. When crafted from today's high-tech porcelains (dental ceramics), crowns are virtually indistinguishable from natural teeth. They can even be designed to improve upon a tooth's original appearance.
There are other materials besides porcelain that we can use to make dental crowns, depending on what qualities are most important. For durability, cast gold can't be beat. However, this is not always the most aesthetic choice — especially towards the front of the mouth. Other possibilities include porcelain-fused-to-metal crowns (PFM), which have a metal interior for strength and a porcelain exterior for a more natural appearance, and all-porcelain crowns with zirconia, representing the strongest ceramic. We would be happy to discuss the pros and cons of these various options with you.
Crowning or Capping a Tooth
Crowning or capping a tooth will usually take two to three visits. At the first visit, your tooth is prepared to receive its new crown. First, it is shaped to fit inside the new covering. This will involve some drilling to give the tooth a uniform shape. The tooth and the surrounding area will be numbed beforehand. If there is very little tooth structure left to begin with, the tooth may have to be built up with filling material, rather than filed down, to support the crown.
After the tooth is prepared, impressions of your teeth are taken, either digitally or with reliable, putty-like impression materials, and sent to the dental laboratory. There, the impressions will be used to make models of your teeth for the creation of a crown. The models will serve as guides to the highly skilled lab technicians, who will ensure that your new crown is designed to enhance your smile and function well within your bite.
Before you leave the office, a temporary crown will be attached to your tooth to protect it until the permanent crown is ready. At the second visit, your permanent crown will be attached to your tooth with either a resin that hardens when exposed to a special light source, or a type of permanent cement.
Creating a Bridge
Crowns can also be used to create a lifelike replacement for a missing tooth. This is done with bridgework, which spans the space of the missing tooth and requires at least three crowns. Two of those crowns will be placed over healthy teeth on either side of the missing tooth; these healthy teeth are referred to as abutment teeth. The two crowned abutment teeth become supports for a third crown placed in between them; that third crown is referred to as a pontic. If more than one tooth is missing, more crowns will be needed to bridge the gap in between the abutment teeth.
The number of abutment teeth necessary to replace missing teeth is influenced by the number of missing teeth, the size and length of the abutment tooth roots, the amount of bone support each abutment tooth has, as well as where in the mouth the missing tooth is located. For example, if you have three missing teeth, four abutment teeth may be necessary, thereby creating a seven-tooth bridge. Engineering and designing of the bridge requires an understanding of how to replace teeth, as well as the biology of the supporting gum and bone tissue.
Caring for Your Crowns & Bridgework
Crowns and bridgework require the same conscientious care as your natural teeth. Be sure to brush and floss between all of your teeth — restored and natural — every day to reduce the buildup of dental plaque. When you have crowns, it is even more important to maintain your regular schedule of cleanings at the dental office. Avoid using your teeth as tools (to open packages, for example). If you have a grinding habit, wearing a nightguard would be a good idea to protect your teeth and your investment.
For more information on dental crowns & bridges call Michelle B. Deutch, DDS in Overland Park, KS at (913) 469-0085 today!
---
If you think that getting orthodontic treatment is just for children and teenagers, you might be surprised to learn that many of the patients seeking straighter teeth or orthodontic treatment are adults. Braces might be a regular right of passage for children, but adults face a number of different challenges and concerns when it comes to orthodontic treatments, like the professional and social stigma of wearing metallic wire braces for two years.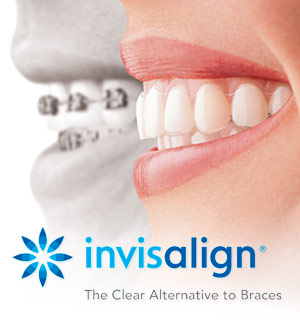 Straighten Your Teeth Discreetly with
But choosing between necessary orthodontic treatment and traditional braces is no longer the only option for adults. Invisalign clear aligner trays gently shift your teeth into the desired alignment over a period of approximately 15 months, no wires, rubber bands, or metal brackets required! Dr. Jay Schuster, a preferred Invisalign provider in Morristown, NJ, recommends Invisalign for adults who prefer a discreet and subtle option to traditional braces.
How Invisalign Works
The Invisalign system consists of a series of custom designed removable trays that gradually shift your teeth into the correct alignment, just like traditional braces. In addition to being clear and practically invisible, Invisalign has a number of additional benefits over metallic braces. The trays are removable for up to two hours a day, which allows you to continue eating as you normally would, without the need to cut out specific foods and drinks. You can also continue to brush and floss regularly, which helps to decrease your risk for tooth decay and gum disease. Each tray is worn for approximately two weeks, and then replaced with the next one in the series. Depending on your specific orthodontic needs, treatment with Invisalign may be shorter than with traditional braces.
Are you interested in straigthening your teeth with Invisalign? Call Michelle B. Deutch, DDS in Overland Park, KS today at (913) 469-0085 to schedule a consultation!
---
iTero Element® 5D
The iTero Element® 5D imaging system Our most advanced intraoral scanner to date which aids in interproximal caries detection. t's the first hybrid dental imaging system that simultaneously records 3D, intraoral color and NIRI images — eliminating the need for multiple devices and repetitive sterilization. And with iTero TimeLapse technology, our patients can be engaged and able to visualize diagnostic, restorative, or orthodontic comparisons.
---
Those lines between your brows can be optional
with FDA-approved Jeuveau® (prabotulinumtoxinA-xvfs).
Get Jeuveau and eliminate wrinkles at the same time you get a cleaning!
https://jeuveau.evolus.com/
Ready for a modern-made tox?
What is Jeuveau?
Jeuveau is considered as the newest neuromodulator specifically for cosmetic use and has coined the phrase #newtox. In 2019, it became FDA approved, the last injectable to do so in over ten years. Compared to other neuromodulator injectables, Jeuveau has created 'Hi-Pure' technology. This helps Jeuveau to work efficiently by interrupting the communication between the nerve ending and its targeted muscle. Formulation Botox and Jeuveau use the same ingredients, but the formulation differs. Jeuveau's Hi-Pure technology takes added steps to remove dangerous proteins and to aid with absorption. This makes the product potentially safer.
Patients can see results in as little as 2-3 days. Jeuveau positions itself as an injector for who want to stop the early signs of aging. It's commonly used to reduce forehead and frown lines, crow's feet, bunny lines, and other fine lines and wrinkles. It can also be used for lip flips.
-88% were likely to recommend Jeuveau® to a friend or family member
-94% were satisfied with their overall Jeuveau® treatment
-95% believe results with Jeuveau® were natural-looking
Call us to schedule and get $40.00 off every visit once you get set up with Evolus at our office.
---
The clear alternative to braces. No metal wires or bands to irritate your mouth and they are practically invisible. You take off your aligners to eat and brush and floss your teeth.

Your initial oral examination includes a visual examination, charting, periodontal probing, diagnosis and treatment recommendations. We will also take necessary digital x-rays for proper diagnosis of tooth decay and periodontal disease.
We will work with an implant specialist to create an implant for a missing single tooth, missing multiple teeth, or replace a removable appliance.

Our state-of-the-art, in-office Power Bleaching system will make your teeth whiter in less than 1.5 hours. Another option is our home bleaching system you take with you for results in 2 weeks. You can also consider a combination program of both systems for optimal, long-term results.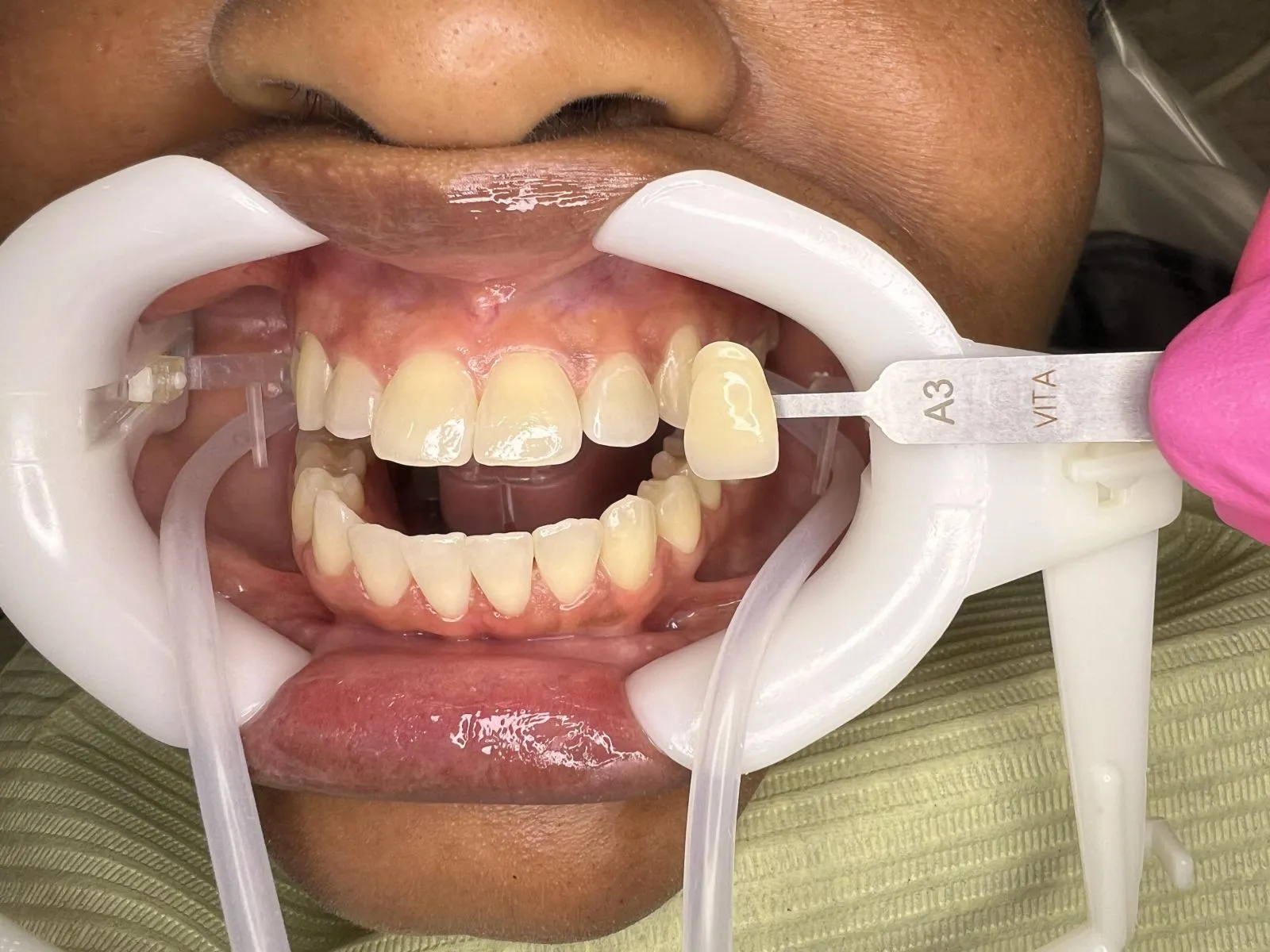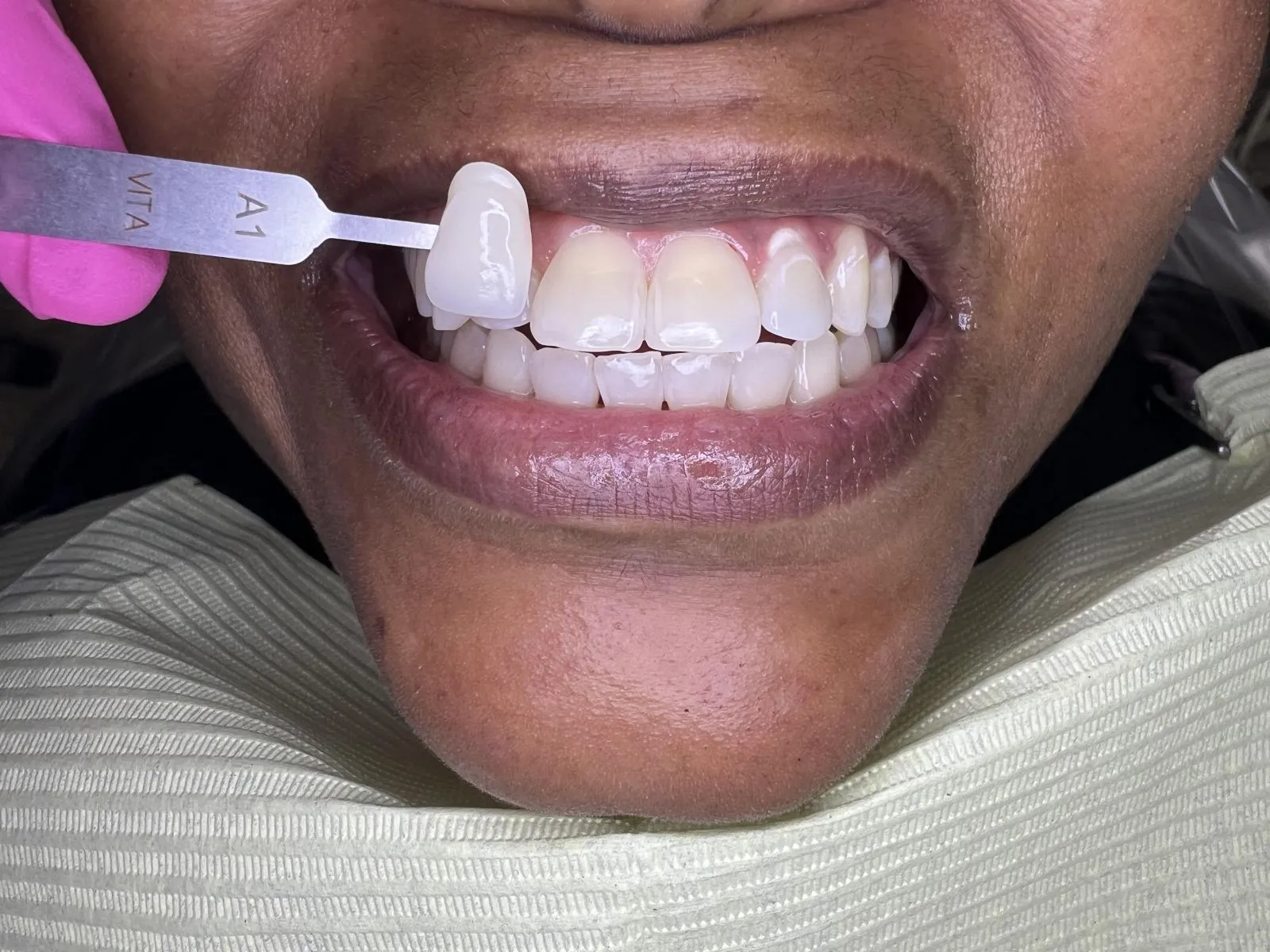 You can have a new smile with veneers, porcelain / high noble crowns, or all porcelain crowns.
Tooth-colored fillings that are light-cured to match your teeth.
Each of us is different, and so is our individual ability to resist diseases. Some patients are more susceptible than others to periodontal disease. With today's state-of-the-art procedures, you no longer have to lose your teeth to gum disease.
Good periodontal health starts with you. Here are a few things you can do to prevent or control gum disease:
Thoroughly brush and floss your teeth at least twice a day.
Limit sodas, sports drinks, and juices.
Eat well-balanced diet avoiding sticky sweets and junk food.
Examine your mouth routinely for any early signs of gum disease or oral changes.
Visit us at least twice a year for a thorough cleaning and oral exam.
Mouthguards Whether you are an athlete or casual sports participant, you should wear a mouthguard to protect your teeth. If you grind your teeth while you sleep, a bite guard will help reduce symptoms of TMJ. We custom-make mouthguards in both soft and hard materials.
Customize your Sports Guard with the help of our dental team!: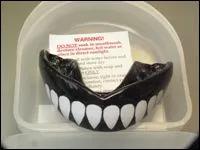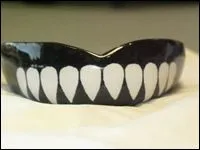 NTI Applicance: NTI Tension Suppression System
For missing teeth, we can make dentures or removable partials for you.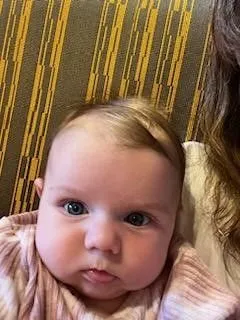 Take your child to see the dentist by his or her first birthday, even though this may seem early. The dentist can demonstrate how to properly clean the child's teeth, discuss how to prevent baby bottle decay, and review the proper amount of fluoride needed for healthy teeth. The first dental exam also allows the dentist to spot growth and developmental defects that generally are easier to correct at an early age. Regular dental visits and good oral care at home will truly give your baby something to smile about.
Acteon Sopro Care Camera
The Acteon Sopro Care Camera is an extremely accurate, reliable and non-invasive method to aid in cavity detection. This device has been awarded the Seal of Acceptance by the American Dental Association. The Acteon Sopro Care Camera uses laser technology to detect and quantify hidden or sub-surface cavities by measuring laser fluorescence within a tooth structure. This allows the dentist to find cavities before they are advanced and destroy the tooth surface.
Snap on smile is a cosmetic removable arch that can give you a beautiful smile. There are no shots and no drilling and it is done in just two visits. It "snaps" right over your natural teeth and it looks beautiful! Plus, compared to doing permanent cosmetic work, it is a fraction of the cost. And with proper care, it can last anywhere between 3-5 years.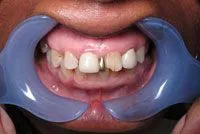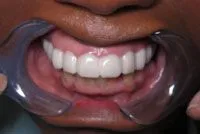 EPIC™ by Biolase
EPIC™ is the only diode laser in the USA cleared for three unique therapy modes – Soft Tissue Surgery, Whitening, and Pain Therapy.

One of the most promising aspects of laser dentistry is the opportunity to do more with less anesthetic, and less damage to the tissue. EPIC™ delivers on that promise with ComfortPulse, a proprietary BIOLASE® innovation that delivers precisely controlled micropulses of diode energy to the tissue, followed by "down" time to allow tissue to respond positively.