What is Sinsational Smile?
As the Sinsational Smile line of tooth whitening products indicates, a sinsational smile is " A smile so bright, it's sinful."
More than just a slogan, Sinsational Smile whitening is gaining great popularity through out the United States as millions of adults desire their teeth to look:
whiter and brighter, with reduction in or complete removal of stains
healthier
younger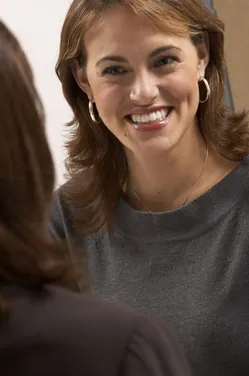 Dental whitening achieves just that, restoring the color of a patient's teeth to what they looked like, naturally, years before.
How the Sinsational Smile System Works
The dentist or dental hygienist is the best person to help a patient decide if he or she is a candidate for tooth whitening. When gums and teeth are healthy with minimal restorations and strong enamel, whitening with the Sinsational Smile products works exceptionally well, and in just one office visit. Teeth should be professionally cleaned before any whitening procedure.
The proprietary whitening gel is made with safe and recyclable ingredients and comes in pre-filled trays, one for the top teeth and one for the bottom. Patients report that the trays are comfortable and that the gel does not make the teeth or gums feel sensitive or irritated in any way as can happen with some other products. After applying some moisturizing Vitamin E ointment on the patient's lips, the trays are placed. A non-UV LED light, safe for the delicate tissues of the lips and mouth, is shone on the teeth and speeds up the gel's whitening processes to just 20 minutes. Tooth color can change by 2 to 5 shades within this very short period of time.
Follow-up whitening treatments with the Sinsational Smile system is based on patient need and what he wants his teeth to look like. The Sinsational Smile kit includes a maintenance whitening pen which the patient uses at home in between office treatments. People enjoy how quick and comfortable their tooth whitening sessions are and how affordable, too.
Sinsational Smile is Award-Winning
Dental Consultants, Inc., an independent, scientifically-based evaluation company, carefully investigates dental products and equipment. It issues annual product awards based on what professionals in the field say about how products perform with real people. For 2015, the company has given Sinsational Smile products its Preferred Product Award.
Explore Your Tooth Whitening Options
Your Overland Park, KS dentist, Dr. Michelle B. Deutch includes Sinsational Smile whitening in her list of dental services. She and her professional staff hope you will consult them for this outstanding cosmetic procedure and for the other restorative and preventative dental services they offer. Call the office today at 913-469-0085.