Cracks, Chips, and Crookedness? Try Veneers!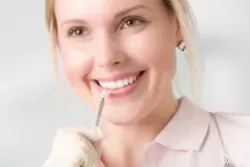 Would you like your smile to look better than you ever imagined? There are many ways for healthy teeth to arrive at that place. One of them is through porcelain veneers, available through your Overland Park dentist.
The American Academy of Cosmetic Dentistry describes porcelain veneers as very thin, tooth-shaped shells of strong, attractive porcelain. Bonded to the front side of one or more teeth, veneers add resiliency and beauty to a smile with:
gaps
minor chips, cracks or misalignments
stains from smoking or highly-colored food and beverages
teeth that are uneven in size or shape
The Veneer Procedure
While teeth with extensive decay, thin enamel, complex orthodontic problems or multiple fillings are not good candidates for dental veneers, many teeth are perfectly healthy but simply need some cosmetic help. In 2 or 3 visits to the dentist, the individual can have a new smile through this painless procedure:
The dentist examines the teeth and gums to see if they are healthy. He or she may also look at the teeth with x-rays or other imaging.
The doctor carefully removes a thin layer of enamel from the front side of the teeth. The amount removed is no more than 1/2 millimeter in thickness.
The dentist take impressions of the teeth and sends them to a lab where a technician fabricates veneers according to the treatment plan.
At the next visit, the veneers are glued on with a special adhesive and then cured with a bonding light which accelerates the chemicals in the glue.
The dentist checks the gums and does final shaping of the veneers.
The patient returns for a recheck in 1 to 2 weeks.
The Longevity of Veneers
Simply put, veneers last a long time, usually 5 to 10 years. The patient cares for them just as he does his natural teeth - with twice a day brushing and careful daily flossing. Twice yearly check-ups and dental cleanings are important as well. While porcelain veneers are as durable as they are attractive, they can be damaged by chewing hard foods, such as ice cubes. After placement of veneers, the patient may experience minor tooth and gum sensitivity, but this resolves relatively quickly.

Find Out if Veneers Are Right For You
Michelle B. Deutch DDS invites you to see if porcelain veneers can change your smile for the better. Dr. Deutch and her friendly staff would be happy to evaluate your teeth and discuss veneers and other cosmetic improvements for your teeth. Call the Overland Park, Kansas office for a consultation at (913) 469-0085.