How Cosmetic Dentistry Can Improve Your Smile
A bright smile benefits more than your health. While oral health is really important, your self-confidence is, too, and it falters if your teeth and gums are less than attractive. Over the past 30 years, cosmetic dentistry techniques have advanced so much that if you can dream a new smile, you can have it! Why not consult an expert in cosmetic dentistry in Overland Park, Dr. Michelle Deutch? She and her dedicated team of professionals make those smile goals happen, using a wide range of aesthetic services individualized to each patient.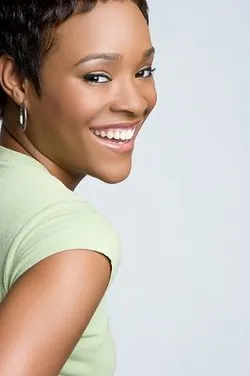 Your ideal smile
It's closer than you may think. Your cosmetic dentist in Overland Park has carefully studied the elements which combine to make a smile confident and great-looking. For instance, tooth color is the first thing most people would like to change about their smiles, says the American Academy of Cosmetic Dentistry.
Next comes remaking flaws such as gaps and chips that are noticeable right in the smile zone--those teeth that show immediately when you laugh or grin. Then, there's dental alignment. Crooked teeth, protruding front teeth, rotated and tipped teeth can ruin your appearance, and of course, some people are self-conscious about their gummy smiles.
So a question Dr. Deutch would ask you in your cosmetic dentistry consultation is,"What's your idea of the perfect smile?" Then, together you and your dentist can arrive at a workable treatment plan which achieves your goals.
Offered cosmetic treatments
Professional teeth whitening Efficient and effective, in-office and at-home teeth whitening changes stained tooth color by several shades, producing dramatically brighter smiles. Dr. Deutch will examine your gums and teeth to decide if whitening is right for your smile. If it is, you'll discuss your options of 20-minute Sinsational Smile, Nite White, Day White and Zoom! Whitening. All employ concentrated peroxide bleaching agents which lift stains out of tooth enamel.
Porcelain veneers Tooth-shaped shells of high-quality porcelain mask the front of teeth which have defects such as hairline cracks, odd shape, small gaps, overlapping and chips. Veneers also improve the appearance of teeth which are so deeply stained from tobacco, medicines or other factors that they do not respond to teeth whitening.
Snap-on Smiles This custom-made prosthetic covers an entire arch of teeth. Removable and non-invasive, a Snap-on Smile appliance instantly changes tooth color, shape and alignment.
Invisalign clear aligners They're an invisible alternative to conventional ceramic or metal braces, re-aligning crooked smiles in about one-third less time. Fully removable for meals and oral hygiene, customized Invisalign aligners come in pairs which are changed out over the course of your individualized treatment plan.
Find out more
Come talk to Dr. Michelle Deutch in Overland Park, KS. Her cosmetic dentistry skills can totally transform your appearance and self-image. Call the office today for an appointment: (913) 469-0085.